Gallery
This is a new section on the web site to display contributions from the children. Anyone whose material we use will win some chocolate!
Mad Science (February 2008)
This was a very enlightening event which was thoroughly enjoyed by all of the 44 children who crowded into the art room! This was the best turnout we have had so far with standing room only for the parents.
Mad Scientist Bill, split the two hour session between the science of movement and the science of art. In the first half he showed us a few tricks using cups and coins which were mostly to do with friction. At the beginning he showed us how if you move cloth quickly from under a plate, the plate will stay where it is, and we had a go at a trick which used the same principle to get a penny out from under a cup.
After a refreshment break, we took our seats again ready for the art session. In this half, we discovered how artists would make their colours around 600 years ago. He explained to us that pencil leads are made up of different proportions of graphite and clay to vary how hard or soft the lead will be, and he showed us how to make beautiful swirling paintings with oil paints and water which we took home with us.
Kate
Climbing at High Ashurst
This afternoon we went to High Ashurst and when we got there we got ready to climb the wall. We put on a helmet and harness to keep us safe. The instructors showed us what to do. I climbed really well up to the top on three different climbs. I was too small to do the other two climbs. On the small wall I hung upside down. Zak helped me climb to top by telling me what to do. He was very kind and told me which grips I should use. It was very hard abseiling down and it made me laugh so much that I ended up dangling. Everyone had a good time.
Imogen
Christmas Crafts
I love to make things!
I thought the Hama beads were the best. I made a snowman decoration for my Christmas tree. The cookies were good too yum yum! We used a mixture of paint, icing, scissors, glue, ribbon, card and beads to make lots of Christmas bits. At the end we had mince pies and something to drink!
Dharma, aged 6, following the 2005 Christmas Crafts session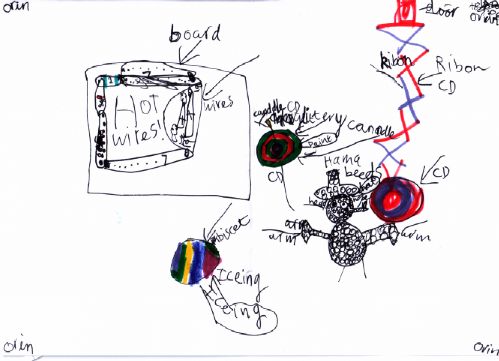 This is Orin's picture of all the things that she she loves about Kingston Explorers:
The Hot Wires electronic component set which sits in the games cupboard and all the crafts that were done at the last Christmas event.
Orin, aged 5, drew us this picture and her mum wrote the explanation!